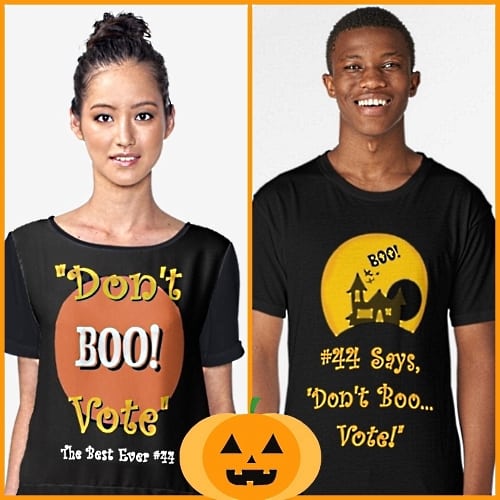 Halloween Fun – "Don't Boo, Vote!"
Now that you're a college student, you do have a civic responsibility… to vote and encourage your peers to do the same.
(In case you're wondering what #44 is… #44 is President Obama.)
Halloween is a fun time, parties, masquerading, pretending, and scaring people.  And don't forget the mischief and candy!
While you're out celebrating, remind folks of November 6, election day.
It doesn't have to be verbal – wear a Get Out the Vote button, Grab a T-Shirt, dress like a Captain America or even Deadpool.
Whatever happens on election day will definitely impact you. 
So get out and vote and encourage your friends and family to make their voice heard through the ballot box!
So while you're out #

ghouling

 this Halloween and having plenty big fun, toss in a nod for Voter Registration and Voting on November 6.